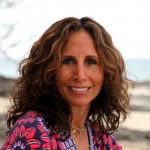 When asked – "How did you become the world's pre-eminent kissing expert?", Andréa Demirjian will trace her "know-how" back to the many years spent studying this spectacularly intoxicating interaction, first as a kid at camp high in the Rocky Mountains, then at a university in the golden hills of Tuscany.
The truth of the matter is life as The Kissing Expert all started with a mind bending/knee weakening kiss that jolted Andréa up off a glass bed like Sleeping Beauty in the forest. Spirit restored, that sensually revitalizing moment was followed by reckless revelry and deep introspection. And out from which the wisdom to never underestimate the inspirational power of a single kiss.
Fascinated by the romance and sensation of kissing from a very early age, The Kissing Expert mixes her passion and pleasure for lip-to-lip, with the knowledge and insight acquired writing her book (Kissing), and exchanges with professionals and lovers alike.
Through the experience, Andréa's desire has very simply become – spread a little love with a kiss.
Come kiss her on Facebook, Twitter, and www.kissingbook.com.