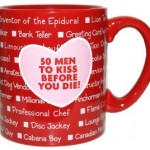 She's at it again! A year after appearing on Ellen to extoll her "Kiss List" of top actors she unabashedly enjoyed kissing in the movies, Diane Keaton recently re-appeared on Ellen revealing she's on a "kissing quest". There to promote her new film And So It Goes, Ellen reminded Diane that the last time, she discussed her delight with "the kissing" of all the many magnificent movie men she's munched, to which DK replied – "I like it, I said it, I do, I do…"…The Kissing Expert loves this woman's titillated joy for "the kissing"!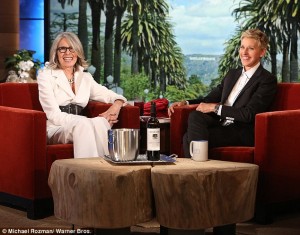 Looking beautiful in a crisp white jacket with a wide belt synching her trim waist, and smiling through her signature glasses, Ellen asked Diane if she'd ever kissed her most recent co-star Michael Douglas – "Never, never even touched Michael…Never met him…"…Carrying on, she shared snogging him was like puckering a pit-bull – that he kind of attacked her…and that while she was kind of cautious, in her heart of hearts, she felt the same way about him, and wanted to get "right with it"… As she relayed this experience, DK sat on her hands almost as if to contain herself from pouncing like a panther!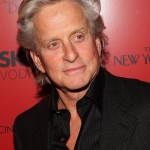 DK then muses on in quintessential Keaton style – "I've been thinking about "the kissing"…and I have been elaborating in my mind what I want, and what I've decided what I would like as my goal in life is to be the woman in film who has had the most kisses with men on film…"…Everyone applauds…"and thinking that maybe 50 is what I am going for, so I have a little bit of time." Recognizing that 50 is somewhat lofty, DK qualified "the kissing" could happen in a professional venue, cleverly widening her circle of opportunities. The Kissing Expert thinks this is truly the most fantastic life goal ever uttered!!!
When asked about how many she'd quenched in her quest, Keaton literally produced a list – "I'm up to 18 so far…Woody Allen, Keanu Reeves, Tom Cruise, Kevin Kline, Steve Martin, Al Pacino…" to name a few (see TKE's April 2013 blog)…Then popping and squirming in her seat, she adds with an "Oh!"…"And I've just kissed Morgan Freeman…Oh! (popping again)…and his lips were just so luscious…you just put your lips up against him, and squeezed in and it felt gooey and good…"…Without knowing Morgan Freeman, TKE imagines him blushing – at 76, he still possesses major za-za-zoo…TKE would like some of that juiciness too!!!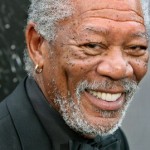 Ellen then takes DK's list, reading from the column she's questing. Given the caliber of previous professional lip-locks, its no surprise she's set her sights on la crème de la crème of a most desirable magnitude. Among the illustriousness, which TKE would categorize as follows, DK is jonzing for:
The Legends – These men have immortal status, even though two still grace this planet:
Robert Redford

:

TKE

can imagine DK sheepishly running her fingers through the Golden Boy's full mop of straw colored hair, and growing more confident with each stroke…His ever-present smile tripping the light like a kiss fantastic!  

Clint Eastwood

: This sexy, steely growler would probably set DK a little more on edge than normal…But his lips would calm her, and her mojo would soften his squint to a twinkle, bringing out the silver white stars in his beautiful eyes!
Cary Grant

: While not officially qualified as on

"the list"

(most unfortunately, he's not taking engagements!), DK shared how she fell in love with Grant's "CK Dexter Haven" in The Philadelphia Story (naming her daughter for the character)…She waxes on about his seemingly effortless style –

"Cary Grant was the one who said "The clothes make the man…"

…Cary's old-school screwball humor would have been a perfect present day pairing with the quirky Keaton in the ultimate "rom-com"! 
New Hollywood – Having mischievously proclaimed last year – "I don't mind kissing a younger man…I like to look at them…What's not to enjoy.", that "the youngers" are part of the pilgrimage is no surprise…TKE applauds DK's lack of discrimination!
Ryan Gosling:

This boy only has to stand there with his hands in his pockets…His warm brown eyes and unaffected nonchalance could make any girl buckle…We also know his body is perfectly sculptural…And as a Scorpio, his kisses are sure to be deep, delicious and scorching…DK, you better bring your fire extinguisher!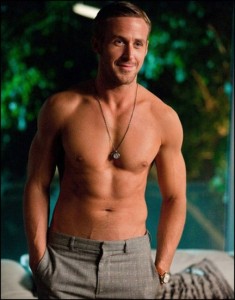 Bradley Cooper:

Whether he's hanging-over or "hustling", with those glimmering eyes and blinding smile, DK will be in for a doozy of a diddle…

TKE

has a feeling he could be a bit of an unintentional heartbreaker, so DK should proceed with caution… 
The Adonis' – These could also fall among New Hollywood, but as non-thespians, they get their own category…Their inclusion on the list points to a delightful, all-encompassing voraciousness in DK's taste:
Adam Levine:

Don't let the tats and pollen colored hair deceive…This insanely talented singer with swanky "moves like Jagger" seems like a nice Jewish boy at heart…His years on The Voice has shown his competitive edge, and affinity for "bro-mancing"…He dulcet tones will set DK on her toes! 

David Beckham

: This soccer star/model/style icon with a Mount Olympian body that can fill a billboard as well as his Calvin's, has massive appeal…He would gallantly carry DK across a muddy field…And his kiss would turn her to putty!
The Jesters – DK has had her share of funny men, so its not surprising she wants to canoodle with comedians:
Will Ferrell:

With an outrageousness that borders on stupidity, tongue-tangoing with "Ricky Bobby Blades of Glory Ron Burgundy"  might be more like an animal lick to the face… The flip side – if he steps out of his shoes, there may be something cerebral there…

Louis C.K.:

Calling him "hilarious" and "genius", while another unlikely candidate, this guy with Harvard educated parents is more than a triple threat creative talent …Having just done a damn good turn in Blue Jasmine, he can add legitimate actor to his chops…Maybe DK sees in CK what attracted her to WA long ago…
Having thrown down her own glorious gauntlet, Diane challenged Ellen to gather these gents on her show (it qualifies as a "professional venue"!)…They could enter a Kissing Booth!  Wouldn't that be something to witness?  Another option would be for DK to lure them to her love den so she could savor it slowly – no kissing should be interrupted with — "Now a word from our sponsor…"…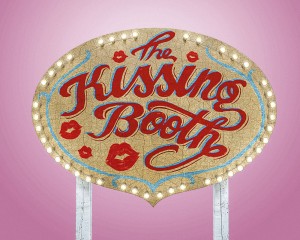 Wherever this stellar smooching transpires, it's sure to be spectacular…And in The Kissing Expert's own life motto  –Kiss with enthusiasm and respect…Kiss with abandon and no regret…Kiss knowing each one counts for something…And forever be in quest of kissing.
Happy Kissing Quest, DK!!!
xxx
The Kissing Expert