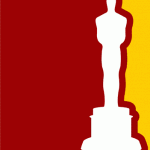 We all have our most favorite movie kisses — kisses that have inspired confidence, made us quiver with excitement and anticipation, or get all misty at the "warm 'n fuzzy" of it.  Some are romantic, passionate and full of desire, while others are poignantly heartbreaking in their farewell or deceit.  Whatever they might be, they've touched the emotions of our own experiences.
In celebration of the OSCARS, The Kissing Expert is strolling down a memory lane of stellar silver screen kisses that come up time and again in surveys among her readers.  While it's always impossible to single out a handful, here's a range of kisses from classic Academy Award winning movies in honor of OSCAR himself.
 1st Kiss
The Quiet Man (1952) – John Wayne & Maureen O'Hara
Sound of Music (1965) – Julie Andrews & Christopher Plummer
What they have in common: An innocent girl from a small Irish hamlet meets a brooding boxer; an innocent girl from a local convent meets a dashing officer (you know how the stories go…)…
The Kiss: The first kiss in The Quiet Man happens before the characters Sean and Mary Kate have been properly introduced.  It's a blustery, fiery dance of a kiss, as the wind literally blows around them, with Sean impetuously grabbing Mary Kate for a spontaneous kiss.  She resists, succumbs, and then slaps him.  They are in for a bumpy ride!  The first kiss between Maria and the Captain is also dance, but a very soft, slow one.  As these two gently hold hands and profess their love, they sashay around the gazebo singing of having done something good somewhere in their youth and childhood, finally meeting in a tender embrace.  Their silhouette in the moonlight literally forms a heart.  It doesn't get any more romantic than that!
Kiss of Surrender
Gone With the Wind (1939) – Clark Cable & Vivien Leigh
Moonstruck (1987) – Cher & Nicolas Cage
What they have in common: A woman who's always used men to get what she wants until she meets her match; a woman who's always avoided men believing she's cursed until she meets her match.
The Kiss:  Rhett and Scarlett are a study in the classic tug of war between two lovers.  She resists her attraction yet flirts shamelessly with him, while he leads her on, then turns on his heels.  When Rhett pulls Scarlett off the carriage outside Atlanta, and declares his true feelings, their kiss is as hot as the flames that burn the city.  Scarlett can no longer resist, and gives in to her softer side.  In contrast, Cher's character Loretta has lived a quiet life, self-sequestered from love.  Agreeing to marry for the practicalities, she finds herself drawn to her brooding future brother-in-law Ronny, who has also isolated himself from the world.  Tossing all her reservations out the window for what she thinks will be just one kiss, Loretta forever frees herself from convention.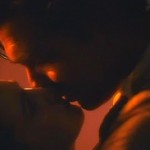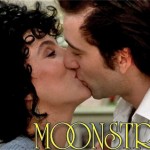 Did You Know?
Movies boost our hormone levels.  Depending on the content, a movie can get you feeling frisky (or in the mood to fight).  Sentimental, chick flicks like Bridges of Madison County can make your progesterone go up more than 10%.  And since progesterone helps reduce stress and anxiety, you'll be feeling more mellow and ready to kiss.  Queue up some romances in Netflix now!
Kiss of Death
Million Dollar Baby (2004) – Clint Eastwood & Hilary Swank
The Godfather II (1974) – Al Pacino & John Cazale
What they have in common: A man of faith who must betray his conscious to free the daughter-figure he loves from a future of misery; a man of loyalty betrayed by the brother he loves who must uphold the honor code of his family.
The Kiss: These tragic kisses are at the opposite ends of familial heartbreak.  In Million Dollar Baby, the kiss between Frankie, the reluctant boxing coach, and Maggie, his paralyzed protégé, is compassionate and permitting as he lovingly whispers "mo chuishle" (Irish endearment for "my heart") against her cheek before administering a lethal injection.  In contrast, The Godfather II embrace between Michael and Fredo is a chilling foretelling of Fredo's assassination.  Grabbing his brother, and kissing him on the lips, Michael cries — "I know it was you, Fredo…You broke my heart…You broke my heart…"  There's no recovery from either of these fatal farewells.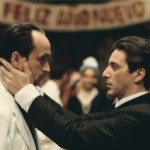 Kiss of Abandon
From Here to Eternity (1953) – Burt Lancaster & Deborah Kerr
The Thomas Crown Affair (1968) – Steve McQueen & Faye Dunaway
What they have in common:  A beautiful married woman in search of satisfaction; a beautiful insurance investigator in search of a thief.
The Kiss: In both movies, the sensual tension of the kiss bursts on the screen with unparalleled energy.  With From Here to Eternity, the two glistening lovers toss and tumble in an earthy wet kiss as they are lapped up by the ocean waves.  In The Thomas Crown Affair, the two glamorous lovers succulently lock-lips as they are pulled in by the cinematic force of the camera's dramatic technique which presents their kiss in several simultaneous images.  All this kissing is so insanely hot and sexy, you'll need one of those pretty paper fans to keep yourself cool!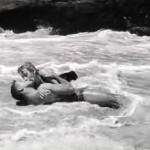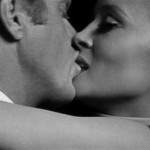 Goodbye Kiss
Casablanca (1943) – Humphrey Bogart & Ingrid Bergman
Witness (1985) – Harrison Ford & Kelly McGillis
What they have in common: Choices and partings – one that will leave two lovers' history to stay forever in the past, and the other between two would-be lovers whose future will never be…
The Kiss: In Casablanca, after reuniting, and re-affirming their love, Sam must choose between Elka, or helping her and her husband escape.  Their goodbye is as sad and subdued as the fog that surrounds them as Sam bittersweetly reassures Elka — "We'll always have Paris…"  In contrast, the final moment between Ford and McGillis in Witness is an eruption of passion long held at bay by a socio-religious divide.  Ford's character John Book has decided to return to the real world instead of remaining in Amish country with Rachel.  Their goodbye is all consuming as they embrace for the first and last time, seemingly swallowing a lifetime of kisses in one.  Both will prick your heart with the reminder of the ambiguous loss of your own "almost" loves.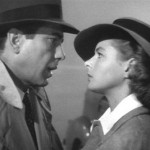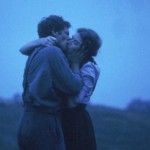 And sometimes the best OSCAR kisses occur on the Academy stage.
Who could forget the victorious 2003 kiss between Best Actor winner Adrien Brody and Halle Berry as he accepted his honor?  In a spontaneous karpe kissem moment (that's Kissing Expert speak for "carpe diem"), Adrien grabbed the beauty for a juicy lip-lock that went on and on and on.  There was nothing staged or awkward – this stolen kiss was full of fancy flash and flare, and Halle played it like a true sport.  A year later when Adrien presented the Best Actress award, he would spritz himself with breath-freshner before announcing the winner.  The Kissing Expert loves that kind of cheekiness!
The Kissing Expert wants to know – what are your favorite movie kisses?