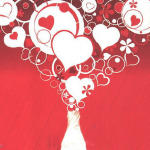 Valentine's Day.  It's the "high holiday" for romance, fairytales, and the hope of dreams come true.  Our expectation is the evidence of love will prevail that day in grand gestures and declarations from those that have captured our hearts.  Toss in the pressure and intensity of a somewhat topsy-turvy world potentially clouding our confidence, and the desire for proof of such enthusiasm can be compounded by a larger need for us to believe that love can still conquer all.
With such anticipation, Valentine's Day seemed a perfectly suitable occasion to ponder triumphs of the heart.  In search of affirmation, The Kissing Expert reflected on the stories that passed through the 24/7 media ether in the last year, along with turning to her reliable "round table" of thought givers.
The opportunity to reflect is also apt considering February 14th honors the life of Valentinus, a young man who was sentenced to death for marrying couples in religious ceremonies during pagan Rome, and despite his dire jailhouse situation, fell madly in love while awaiting his fate.
Happily across the board, it appears love prevails in a myriad of heartwarming forms – some shining and big, others soft and subtle.  And the commonality is the compassion of the indomitable human spirit where love's intent is demonstrated by acts or behavior, and reflected in patience, enthusiasm, kindness, courage, faith and encouragement.  It can even endure in loss, when love somehow in its infinitely miraculous way, buoys the sorrow of the heart, inspiring people to thrive.
Among The Kissing Expert's most notable moments when love prevailed:
In Love Reignited
A couple who remarried at 85, almost 50 years after their divorce, and whose re-kindling was in part aided by their daughter
A couple who married after being reunited by a long-lost love letter expressing hope of reconciliation, but which had slipped unopened from the mantle into the fireplace, where it remained unread until a renovation revealed their intent
In Sickness
 A football player supporting his 4 year old daughter's cancer battle, who boosts her fighting spirit before trips to the hospital with "game-day" like pep talks and fists bumps

A father with cancer who staged a beautiful mock wedding, and walked his 11 year old daughter down the aisle so they'd always have that moment

A dying man in hospital who'd stopped eating, and then made a complete recovery when the nurses tracked down his beloved dog, and re-united the pair
Acts of Kindness
An 8 year old boy who encouraged his 83 year old grandfather's soccer playing, saying to everyone – "Wow, Grandpa is really good.", and telling his mother he gave his grandpa a secret gift by missing some of his shots
Two sheriffs from different states who worked together to help a boy's wish of learning to hunt and fish come true, funding his trip and equipment
Teachers who use their small incomes to help their students in the classroom, buying school supplies and lunches when they are unable to
And Acceptance
A transgendered child whose family documented his journey, encouraging and supporting him all the way, and teaching the lesson of unconditional love
Twins who came out to their father on a phone call, which they videotaped for their blog to give other young people courage if faced with the same challenge
In Long Distance
Two young people, one in New York, the other in Paris, who'd met while out one night on holiday, who then weathered the miles and miles apart, and pressures from their parents to end it, only to eventually marry, and have children happily ever-after
A middle-aged man in Washington and middle-aged woman in London, who met, fell in love, nurtured their relationship from afar, and become engaged over the holiday during a Caribbean getaway
After Tragedy
A man terribly injured in the Boston Marathon bombing, who married the rehab nurse that had helped him through the months of painful recovery, and walked victoriously to the altar
A returning war vet who lost all 4 limbs, who was helped through his recovery by his high-school sweetheart, strengthening his body and spirit, and their relationship in the face of extreme adversity
A doctor whose wife and daughters where killed in a robbery/fire, who found love again, remarried, and then welcomed a baby boy, renewing his life and soul
Even After Death
 An elderly man who carries his late wife's photo out to each meal 5 years after her death
A wife who wrote her husband a heartfelt note which he found days after her passing, encouraging him to smile, and promising they'd meet again
A 94 year old man who recorded a love song for the wife he lost
And Ultimately In A Kiss…
At a fairytale wedding of a handsome celebrity bachelor and his beautiful, brainy wife
Against tyranny in India where PDA is forbidden, so lovers staged a Kiss Day in public protest, sparking a national debate
In the many happy homecomings of our veterans as they are greeted by loved ones and friends expressing joy in their safe return
So with Valentine's Day upon us, remember the multitude of ways in which love prevails, and "be swift to love".  Enjoy what's reflected upon you, and how your love halos others for a truly happy holiday.  With that intent, The Kissing Expert encourages lots of kissing, a Coke, and #MakeItHappy!
Happy Valentine's Day Kissing!
xxx
The Kissing Expert