"Is it ok to kiss on the 1st date?" – it's something The Kissing Expert is asked pretty often.  In an era where risqué sex-capades are so commonplace, and available for everyone @ Twitter, Facebook, and YouTube, there's something rather innocent about this query.  But there's an intimacy to kissing that brings rise to a tentativeness born in wanting to safeguard something special.  Because that first could open a door unto your heart, and maybe a whole new world, so it's worth reflection.
Here's TKE's simple answer – "It's not a matter of yes or no, but how you feel."
A quick case in point:
You're on your first date with this super cute guy, and you become rather excited at the prospect of his tasty looking lips.  You feel this "fuego" tickle your toes…Should we kiss?  Is it too soon?  Will he think I'm a hoochie if I let him (or moreover, if I steal the first one)?  What to do?..If your radar tells you the "mojo" is mutual, seize the kiss (or as TKE says – carpe kissem)…You should have no regrets when it comes to kisses taken (only those that got away).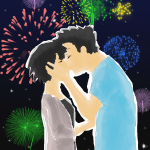 On the flip, you're out enjoying a really nice time…He seems to have some sex appeal…You're thinking of possibly kissing him, and wondering if he wants to kiss you, but not sure if you want to just yet.  If it suits you to wait for a comfortable familiarity, there's no rush.  If you are meant to partake in some succulent smooching, the universe will present the moment.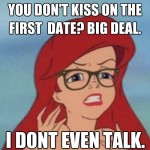 So that first kiss, be it when sweet synchronicity ultimately encourages you to take the leap, or when snatched serendipitously at first site right out of night's balmy air, is a gift to be savored.
Always remember:
Kiss with enthusiasm and respect…
With abandon, and no regret…
Kissing knowing each one counts for something…
And forever be in quest of kissing.
Happy Kissing!
xxx The Kissing Expert