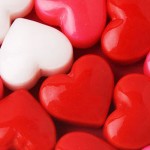 Valentine's Day.  Long stemmed red roses.  Lacey thrills of ribbons and things.  Gooey chocolates.  And unabashed queries from the heart for the heart.
For some girls, this old Roman holiday, rooted in the pagan fertility festival of Lupercalia, can be the ultimate in romantic fulfillment with attentive suitors, beautiful bouquets, amorous notes, and shiny surprises.  It could even include canoodling over dreamy candlelit dinners complete with assorted appetizers, aphrodisiac in nature, where desire over-floweth like champagne from Cupid's fountain.
For others, February 14th can be a stressful event fraught with disappointment and dashed expectations – a bleak, depressing day where every girl in town seems awash in the glow and know of being loved, except you.  And this sentiment does not discriminate between married and single girls.
Did You Know?
64% of men don't make plans in advance for a romantic Valentine's Day.
Whether you have a sweetheart or not to sprinkle you with tasty kisses, or your guy is in his usual state of being unaware, don't retreat.  Instead, embrace this holiday in a way that doesn't require someone else to lift your spirits.
The Kissing Expert's helpful hints to make your V-Day a happy one
– Take Charge: So you're sitting around wishing, and hoping and praying he's going to make plans…Instead of feeling anxious that things won't magically turn out the way you want, take matters into your own hands, e.g., arrange for a dinner, order up the bubbly and delicacies of oysters and caviar, and then enjoy watching him pay the bill!  While you're at it, get a little cheeky, and let him know about the red lacey panty and bra set you're sporting for dessert!!!
– Shift Focus: As girls, we understandably get a little pre-occupied in anticipation of the day – "Will he remember?, What will he do?, What will I get?"  Don't get bluer holding your breath, try turning the tables and give, give, give, e.g., create and deliver Valentine's cards to your friends and family, surprise him with a bouquet of "forget-me-nots", make a donation to the American Heart Association – spreading a little cheer will make you feel rosey!
– Party On: Imagining you're but a lone spinster who'll be found slumped over the table while mice scurry for the leftover cereal in the bowl you never finished?  What about your posse who are surely ready, willing and able to concoct some crazy fun?  This Saint's day is not just about romantic love, it's about all love – love of friendship, love of life, love of being present…So plan an impromptu soirée, serve dried fruit on a toothpick, and declare – "Now everyone has a date!"
– Indulge Yourself: No one treating you royally?  Why not pleasure yourself?  Try a relaxing massage at a spa.  Paint your fingers and toes vixen red.  Shop for that sassy 'n sexy pair of shoes, or anything else you've wanted but resisted.  Play hookey.  Sleep late.  Rent your favorite hokey movies.  Drink wine in the middle of the day.  Luxuriate on the couch with a plethora of tasty caloric snacks.  Do whatever makes you feel good because you know you're worth it!
– Act Silly: Feeling a wee bit low, even sorry for yourself?  Maybe you're contemplating the meaning of your lackluster love life?  Shake it off with a little of the ridiculous.  Dance in your underwear.  Sing out loud in your car to your favorite "lite" tunes with the windows down.  Skip down the aisle in the supermarket.  Kiss the guy at the coffee cart.  A spoonful of the spontaneous goofies will cure that Valentine's flu.
– Invite Someone Special to Dinner: No guy to wine and dine with?  Why not ask your Dad, your brother or uncle?  They're guys who'd surely be happy to be with you.  And if they don't live near by, bring a smile to the face of your next door neighbor.  A celebration doesn't need to be reserved exclusively for romantic relationships.  There are many important people in your life.  Just think how wonderful you'll make them (and yourself) feel.
You could also become a teacher (more teachers receive Valentine's Day cards and gifts than anyone else from their adoring students), or move to Asia (in Japan and Korea, it's the woman who shows her affection to a man on Valentine's Day, and a month later on March 14th, he has the chance to return the gesture).  If all else fails, send yourself flowers (15% of women do!).
And remember, there's always next year.  Happy Valentine's Day Kissing!  xxx TKE