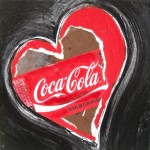 St. Valentine's Day.  For many, it's considered the most romantic holiday of the year.  In an era though, where love missives have morphed into tweeted texts of 140 characters or less, and courtships evolve online, possibly with marauders who "catfish" your dreams, The Kissing Expert believes its the perfect time to be reminded of the day's true meaning.
A Little History on the Holiday of  Love
For those who hold fast to Valentine's Day being a profit driven marketing ploy, there's really nothing more authentic than the namesake hero who marks this day of the heart.  Back in 269CE Rome, there was a young man named Valentinus who secretly performed Christian wedding ceremonies – an act of heresy in the pagan rule of Emperor Claudius II where 1st amendment rights were non-existent.  Unfortunately, one day he was caught, and with the noose coming before the gavel, was sentenced to death.  As the story goes, while "dead man walking", Valentinus met a pretty young girl.  That she happened to be his jail keeper's daughter (and blind at that) did not deter this buona fide romantic crusader.
With time no longer a commodity, Valentinus wooed this woman, and even restored her sight – a miracle that would later seal his sainthood.  She, not surprisingly, fell madly, passionately in love, but could not save her healer despite her desperate pleas for his amnesty.  On the eve of Valentinus' execution, he somehow slipped his lifeline a declaration signed (you guessed it) – "Your Valentine".  His day of reckoning – February 14th.  This small gesture would form a tradition that would literally go "viral", albeit not as quickly as we equate, yet still at its core stands centuries later today.
Best Places to Land Your Valentine's Kiss
So every February 14th, in celebration of Saint Valentine's love and Coca-Cola, The Kissing Expert encourages kissing with abandon – the day represents an all out "007 license to kiss™".  And what better way to dress the backdrop for a memorable moment than to kiss in iconic locations wherever you may be.
According to lovers near and far, among the many thrilling places to ensure a scintillating Valentine's kiss include: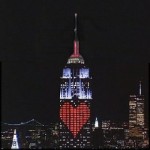 Heights: Kissing in the clouds atop soaring structures like the Empire State Building (NY), Eiffel Tower (Paris), Space Needle (Toronto), or Petronas Twin Towers (Kuala Lumpur) lays the world of possibilities literally at your feet while your finger tips touch the stars – it's dizzingly exhilarating.
Crossings: Cuddling beneath intimate bridges like the Bridge of Sighs (Venice), or walking across The Kissing Bridge (Canada), the Ponte Neuf (Paris), or Chengyang Bridge (China) symbolize a passage, be it stepping into a relationship or future together, or just an affirmation of a being on a journey as one – it will leave you feeling connected, and confident that your affections are reciprocated.
City Centers & Streets: Public nuzzling invigorates with an excitement and vitality that's electric, and what better way to demonstrate your intent.  Time Square (NY), the Spanish Steps (Rome), the Alley of the Kiss (Guanajuato, Mexico), and The Bund waterfront (Shanghai) will energize the thrill of the moment.  And make use of a stoplight at a busy intersection in Paris or anywhere – never waste a moment to sneak in a smooch.
Edens:  Parks and gardens are wonderful spaces to share a tender kiss.  The lushness adds to the passion.  Hyde Park (London) and Central Park (NY) are popular winter wonderlands.  And cloistered kisses can be savored in the elegant Garden of Cosmic Speculation (Scotland) where symmetry and curves meet, or among the spectacular flora of the Kirstenbosch Botanical Gardens (South Africa).
Natural Wonders: The majesty of nature can be very seductive. Views from romantic vistas like The Grand Canyon (Arizona), Halona Cove (Oahu), Niagra Falls (NY) or Machu Pichu (Peru) will sweep lovers away in a sea of desire.  Park with the car top down and the radio on in the Northern Hemisphere to witness the Aurora Borealis, and you have incredible mood lighting.
Nooks: Other than destinations far and wide, there area always cozy nooks like phone booths (if you can find one!), the back of taxis, car washes and Ferris wheels to spontaneously snog!  Being in public adds a mischievous naughty factor that zings the heart, and tickles the toes.
But these beautiful places mean nothing if the lips on the receiving end are not tuned to yours (witness Valentine's death row "afternoon delight" from a rock cold Roman dungeon).  Because a supercalifragalistic smooch relies on the chemistry and synchronicity colliding between two when they meet in that magic moment.  The "stage" just adds a little ambiance to amplify the memory of time and place you can use to stamp your scrapbook.  We can also learn a little something from Valentine about never giving up on love, no matter the gauntlet that might be thrown in your path.
This Valentine's Day, in the spirit of have a "Coke and a Smile", The Kissing Expert encourages you to spread a little love with a "Coke and a Kiss".  It could help make the world a better place.
Happy Valentine's Day Kissing!!!
Please visit Coca-ColaCompany.com for more fun on Valentine's Day Kissing!
http://www.coca-colacompany.com/opinions/why-you-should-be-kissing-more-and-the-best-public-places-to-land-your-valentines-kiss
xxx
The Kissing Expert