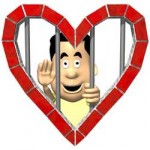 Valentine's Day is upon us.  For many, what's meant to be a romantic feel-good is met with a cynicism understandably provoked by marketers who've artfully created the impression that the holiday is really but a filler between Christmas stockings and Easter baskets.  When you see red heart-shaped boxes lining the retail shelves faster than you can say "Happy New Year", it's no wonder.
But Valentine's Day does mark a moment in ancient history, and a young man who died tragically in the name of love.  It's a rather heartbreaking tale, be it in a dreamy "awww, I can't believe he did that" kind of way.  It's so romantic, even those who opt for attending a V-Day pity party at the lonely-hearts club serving "two for one" at the free buffet during crappy hour, might otherwise be inspired.
As the story goes, back in 269 AD Rome, a young man named Valentinus was caught secretly conducting wedding ceremonies, despite Emperor Claudius' II decree forbidding all religious marriages and betrothals.  He was immediately tossed in jail, and condemned to death (another account has Valentinus imprisoned for worshipping a Christian god vs. the era's pagan gods – also a big "no no" back then).
While biding his time in the pokey, the future saint, being the mensch that he was, is said to have restored the eyesight of the jailer's pretty blind daughter.  She, not surprisingly, fell madly, passionately in love with this healing honey of a guy.  Hoping to make him her man, she begged her pops to spare him from the ax.  Tragically, though, her pleas were ignored, and their courtship cut short.  On the eve of his execution, by some smooth maneuvering, Valentinus somehow managed to slip a sweet parting missive to his girl signed – "From Your Valentine".  And Valentinus' day of reckoning?  You guessed it – February 14th.
Did You Know?
Cupid became a symbol for Valentine's Day because he's the son of Venus, the Roman god of love and beauty.  His magical arrows are believed to inspire love.
So before shrugging off a truly romantic day of remembrance, preferring to condemn Hallmark for seducing you into the buying of glittery cards, gooey chocolates, and teddy bears holding red balloons, remember that a note bearing true love's sentiment was actually sent on February 14th as a dying wish.  Okay, the note might not have been accompanied by heart-shaped sweet tarts and mini plush toys, but the street outside the Roman jail wasn't zoned for retail.
And to better appreciate where Hallmark and the like might have taken subsequent cues, here's what Valentine's Day lovers were doing long ago, likely prompted by Valentinus' himself:
1400's:

The custom of sending verses of love begins in England when French prisoner Charles Duke of Orleans, captured in the battle of Agincourt, sends rhymed love letters to his wife from the Tower of London.

1700's:

English girls would write men's names on scraps of paper, stick them into pieces of clay and toss them in the water.  The first paper to rise to the surface was believed to be the name of the woman's true love.  Another old English custom had unmarried ladies pinning five bay leaves to their pillows the night before Valentine's Day.  If the magic worked, they'd see their future husband in their dreams.
18th C: The first "How to Write a Valentine" guidebooks – "valentine writers" – are sold in stores.  These handbooks included charming love verses to copy, and suggestions about writing a Valentine.
 19th C: Commercial Valentine's cards appear.  Hand painted with cupids or decorated with ribbons, lace trim dried flowers or feathers, the inside was blank for writing a message.  Some cards cost as much as $10!
Early 20th C: Comic Valentine's called "penny dreadfuls" become popular.  Sold for a penny, they featured insulting yet humorous verses.
Now, go out and spend some money on some "impulse buy" knowing it means something!  The Kissing Expert guarantees you're sure to receive some sweet 'n sexy kisses of thanks.
Happy Valentine's Day Kissing to you and Valentinus!