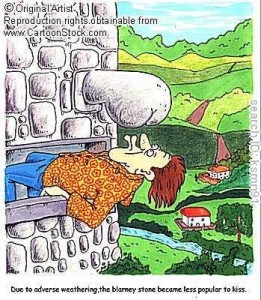 Centuries past have born many kissing traditions that remain ever present – at the altar to "seal the deal", under the Mistletoe for good fortune, on a boo-boo to make it better.  And on St. Patrick's Day, it seems fitting to look at the ritual of kissing the Blarney Stone.
Located at Blarney Castle in Cork, Ireland, 15th c. legend has it that those who kiss the bluestone in the castle wall are bestowed with "the gift of gab" – as in great eloquence or skill of flattery.  "Blarney" would later come to mean clever, flattering or coaxing talk that's intended to deceive without offense.
The Kissing Expert completely embraces the spirit of "blarney", believing it's just the finesse we could all use when it comes to flirting with intent to kiss, especially if you need a little boost to make that first move with someone you have a crush, crunch or wee crinkle on.
So if you're watching a parade or enjoying some green beer, and find yourself next to someone so tasty that you'd love to caress them with your lips, here are a few "gabby" lines you might want to try – it's guaranteed to get some reaction, and could even lead to more exciting lip-locking interaction!
"You're so gorgeous, you should be arrested, but I'll kiss you instead…"
"I had a kiss inside of me I just had to put somewhere…"
"Do you mind holding onto this for me?  (kiss them)  I'll be right back…"
"Oh, pardon me, my lips must have slipped…"
And The Kissing Expert's own tried 'n true that you have permission to use on special occasions:
"I'm doing some kissing research, would you like to participate?" 
What's your best gab?
Now go grab some Happy St. Paddy's Day Kissing!
xxx The Kissing Expert